Slack is obviously great for communication, but the right channels can really super charge sharing and fun for your team.
We've put together a bunch of Slack channel ideas ranging that should suit the diverse interests of any team.
Slack channels are a great way to keep your remote team tight knit, on top of Slack ice breakers of course.
Great Slack channel ideas
On to the good stuff! Here are 22 Slack channel ideas that are bound to keep teams in touch in 2022.
#kudos
#kudos or #shoutouts would be the home for team-members to share praise and gratitude to other team members. There are several great Slack apps that can add more features to kudos, we like HeyTaco.
#pets
Share pictures and videos of your furry friends on Slack. That way you'll already know who Rufus is when he barks during the next Zoom call.
#arcade
The arcade is where teams can hang out to chat about games and/or set up games like Chess, Poker or other online games. Or just to discuss the latest wordle.
#gifs-only
This channel is exclusively for sharing and communicating through gifs. Giphy is a great Slack app to add a lot of gif functionality to Slack.
#random
The default #random channel in Slack is a great place for general chit chat and often becomes the place where overall water cooler talk happens.
#work-radio
Music lovers can share playlists or even sync their playlists allowing teams to share their favourite tunes and have a shared experience even from across the globe.
#weekend-plans
It's freakin' Friday! Give your team a spot to blow off some steam at the end of a work week and share their plans for the weekend. Or come in on the Monday to share what they've been up to.
#plant-parents
For the green thumbs of the team. #plant-parents would be a place to share your favourite plants. It would be a great spot to share clippings, tips and ask questions from seasoned gardeners on your team.
#book-club
Share your favourite reads or sync up and tackle a book together.
#all-caps
SHOUTING ONLY. THIS ROOM IS A LITTLE SILLY BUT PEOPLE SEEM TO LIKE IT.
#AMA
An AMA (ask me anything) is a great way to connect an executive to the rest of the company or to highlight a single team-member to the rest of team.
#memes
A place for memelords and fans of memes to share memes.
#lunch-room
The lunch room is a great place to share tips for great grub if you're sharing an office and a place to connect over food if you're remote.
#welcome-newbies
The newbie channel is a great place for new team members to meet everyone and introduce themselves.
#throwbacks
The #throwbacks channel is a place where everyone can share old photos and memorabilia of themselves or to chat about the time you had to walk uphill both ways to get to work, in snow!
#foodies
Remember the finer things club in The Office? This channel is sort of like that, team members can discuss and share their greatest eats in the #foodies section.
#TV-den
Share recommendations, reviews, and reactions to TV shows and movies in the #TV-den.
#sportsportssports
#sportsportsports can get more specific, but a channel to set up fantasy pools, watch-togethers, and general trash-talk is a great place for sports fans to mingle.
#life-events or #birthdays
A place for well wishes is a great place to concentrate happiness in one place and to keep from distracting more production oriented channels.
#self-promotion
Let your team shoot their shot and promote what they have going on. Everybody could use a little boost from the rest of their team.
#learn-a-language
#learn-a-language can provide the opportunity for your teammates to learn a new language by basically setting up an immersive community. Even better if there are team members that are already fluent that can act as a guide.
#how-do-i
Your teammates have skills that you can learn! #how-do-i allows for everyone to learn new skills from each other.
Work focused Slack channel ideas
Team channels
Team channels are a must, you should set up your Slack workspace to accommodate for whole functional teams like marketing, customer service, and engineering, but also more specific sub-teams and discussions.
#team is an ideal prefix naming convention. Ex. #team-mkt, #team-eng, #team-cs
Cross-team project channels
Cross-team campaigns and projects are common so creating specific project based channels is the best way for a cross-functional team to interact.
#proj is a good prefix to organize cross functional channels. Ex. #proj-site-redesign
Bots and status channels
Having channels where integrations and bots message into cuts down on a lot of noise and mess of having it in a general channel. If someone is looking for a specific status or bot, having a specific channel acts like a dashboard.
#status or #bot is a good. Ex. #status-inbounds, #status-uptime, #status-error-log
Announcement channel
A company wide announcement channel helps ensure important memos (do people still call them memos?) are not lost in the hustle and bustle of a busy company wide channel.
Suggestions channel
Make sure team feedback is heard by dedicating a channel for suggestions.
Job board
Leverage your teams' network and list job roles the company is looking to fill.
How to organize Slack channels with naming conventions
Slack organizes channels in alphabetical order by default. To help Slack members find channels they're looking for, it's important to group Slack channels by theme using naming conventions. Here are the common conventions we see in most teams:
#company – for company wise channels where everyone is.
#team – channels for internal teams, team channels can be as granular as needed. Ex. #team-marketing and #team-product-marketing
#proj – for cross functional projects and teams. Ex. #proj-site-redesign
#fun – all channels related to social purposes
#bot – for all the integration and status activities that teams might want to reference or be alerted about
Make sure to use channel descriptions
Finding the right channel to join as a Slack member can be confusing, having detailed descriptions can help route people to the right channel.
What are Slack channels?
Need to learn more about Slack channels before creating a bunch of them? No worries, here's a quick guide on what channels are and how to best use them in Slack.
Slack organizes its chats into separate themes and topics with channels. You can just have everyone in one room discussing all manners of things, but channels bring definition to conversations.
How to create a Slack channel
On your left side-bar, hover over Channels, you'll see a plus (+) sign fade in.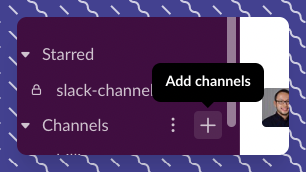 2. Click the plus icon and select create a channel.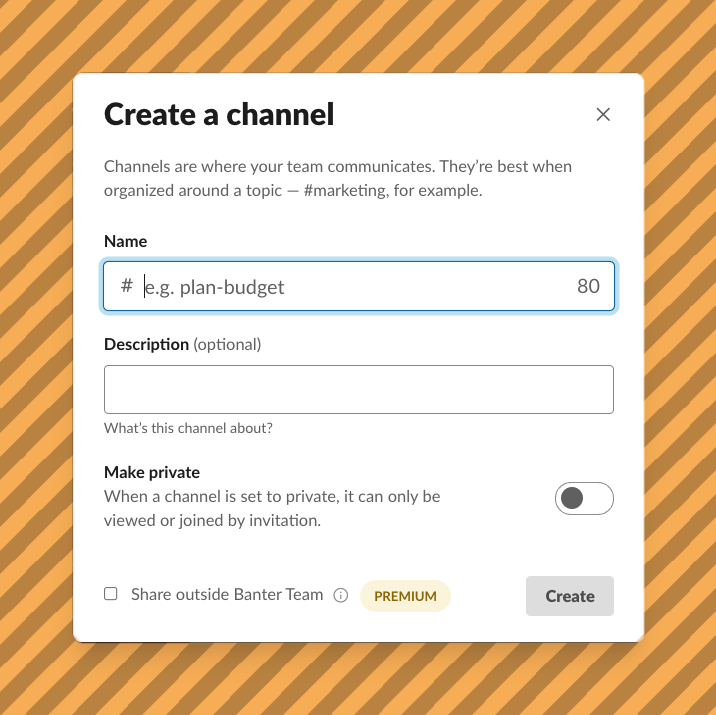 3. Enter in a channel name, Slack only allows lower case and no spaces.
4. Be sure to add a description, it's optional but a good practice to help your team members navigate channels. You also have the option to toggle a private channel.
5. When finished with all the details, click create! You will then be asked if you want to initially invite anyone to the channel or invite the entire company.
How to make a Slack channel private?
A private channel in Slack is invite only, team members cannot see the channel in the channel list unless invited by someone already in the channel.
You have the ability to toggle the channel as private on creation.
If you need to turn a public channel into a private channel:
Right click the channel you want to privatize
Click on open channel details
On the pop-up, click over to the settings tab, you'll see an item "Change to a private channel"
On the confirmation box, you can confirm the change to private channel there.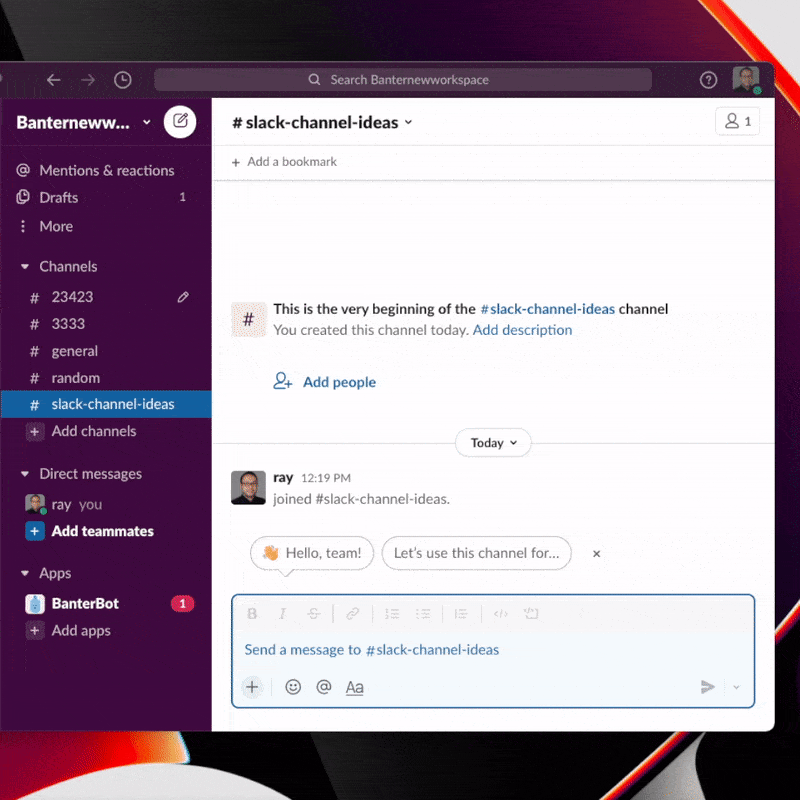 How to rename a Slack channel
Renaming a channel is very simple:
Right click the channel in the sidebar
Click on open channel details
From the pop-up, select edit on the channel name box
Rename channel and save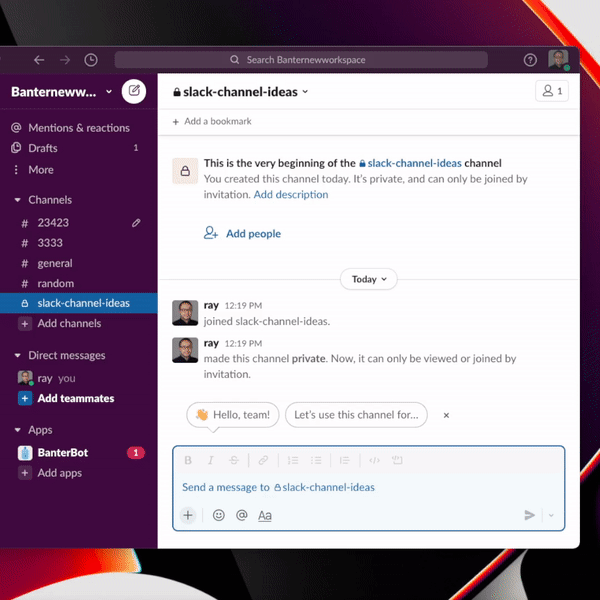 How to delete Slack channels?
Deleting channels is irreversible, if you no longer need a channel, consider archiving it. Here's how to delete a channel:
Right click the channel in your sidebar
Select open channel details
Navigate to the settings tab in the pop up
Select delete this channel, confirm to delete