Slack is great for sending instant messages, reacting with emojis and the occasional (okay, daily) cat picture to your team members. 
But there's no way you can manage entire projects in Slack, right? Wrong. With so many built-in systems, integration capabilities, and handy tools, it's easy to use Slack to collaborate with your colleagues and keep your projects on the right track.
We've rounded up 10 of our favorite tips and tricks for getting the most out of Slack for all of your project management needs.
Create channels for projects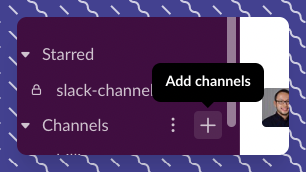 Every project has a channel and every channel has a project in Slack. Maximize each project channel by giving it a relevant name, setting a topic, and providing a description of the channel. Use the project channel to communicate with team members and share important project updates.
Then, when a project reaches the finish line, celebrate by archiving the channel in Slack to save the communication and open up space for your next big idea. And since Slack allows you to create unlimited channels, your projects will be organized in no time, all the time.
Pro tip: Keep consistent naming conventions for project channels and use the pin feature to stick important project information at the top.
Integrate all your tools into Slack
One of the best things about Slack is how well it plays with other tools. Thanks to its top-tier integrations, your Google Calendar, Zoom meeting, Salesforce database, and much more are conveniently accessible right in your workspace.
Integrating your other tools into Slack cuts down on time wasted toggling between platforms and programs. Once you've got all of your tools in place, it's easy to start reaping the benefits of a streamlined workflow.
For example, with the Jira integration, just type /jira anywhere in Slack to create a ticket with all the necessary details for yourself or someone else on your team.
For another level of project management support, Slack lets you create DIY solutions with Workflow Builder. Intuitive setups and user-friendly interfaces eliminate the need for code so you can create processes and workflows with no hassle. If you do have the tech chops, you can use Bolt to develop your own project management tools for Slack in Python, Java, or Javascript.
Leverage Slack reminders
Make every little "ding" count by setting up reminders right in the app. Set reminders for yourself or other team members by using the /remind command to pull up the tool.
Reminders can be written in plain English, with no special formatting tricks required. Whether it's a one-off or a recurring reminder, Slack won't let you forget. For example, if you're in a meeting, you can fire off a reminder to yourself to circle back tomorrow with a colleague on that new deliverable.
Reminder: Slack guests can only set reminders for themselves, so be sure to invite them as members of your workspace if you want them to get the full benefits of the Remind feature.
Set up new project management Slack apps
There's an app for that. With so many project management platforms, it's important to make sure your chosen ones can work within Slack for maximum benefit.
Slack hosts an App Directory where you can find hundreds of apps to help you manage your projects.
To see all of the Slack project management apps available, just check the list on the left-hand side of the directory and navigate to the Project Management tab under the Categories section. From there, sign into your existing project management platforms to start the process of integrating them into Slack.
Make use of Slack's file management
Slack has a built-in filing cabinet that nevers runs out of space.
Whether it's Sharepoint, Google Drive, Dropbox or another cloud-based system, Slack keeps all your files in one organized place. Gone are the days of clunky, obnoxiously long links that have to be copied and pasted into a web browser. Now, you can see a preview of the file right in the app, and it only takes one click to externally open the file in its native environment. To save time, you can upload multiple files at once to a channel.
Hot take: To quickly distribute files to other people or channels, select the file you want to share, click the three little dots, and choose Copy Link.
Use Slack's /todo feature
Request an update on the project, schedule a meeting with the key stakeholders, and get the whole team talking about the latest Banter prompt: Check, check, and check with Slack's handy ToDoBot. Once downloaded from the App Directory, all you have to do is type /todo to summon an automated bot that lets you create to-do items, assign them to yourself or others, and track their progress.
If you want a bot-free to-do list, you can build one in Slack's Create a Post tool. Open a new post by selecting the + icon and tapping Create a Post. Following the formatting guidelines to create a functional checklist of your project to-dos.
Heads up: You can only create a post in the desktop version of Slack.
Send notes to yourself
With Slack, talking to yourself isn't weird. In fact, it's proven that notetakers have an advantage when it comes to absorbing and retaining key information. To send notes to yourself on the platform, just find your name on the left-hand side under Direct Messages. Here, you can create and format notes about projects that can be easily shared out in just a few clicks.
And you're not limited to the written word; You can also send voice memos, pictures, and videos to yourself. Additionally, you can use the space to test out and optimize new tools and integrations before rolling them out to the rest of your team.
Note to self: You can even take it a step further and create a private channel for just you and your thoughts.
Move live standups to Slack
An icon of the Agile way, standups are designed to offer quick snapshots into employee's projects. In today's digital world, remote employees need ways to asynchronously connect and communicate about projects. That's exactly why you should consider moving your team's live standup to Slack.
Hosting standups via Slack also creates a paper trail that can be useful to document project progress and track issues. You can even use, Standup.ly, the standup bot made exclusively for Slack to keep your team connected on everything that counts. Consider creating an all-hands standup channel and individual team standup channels to make sure all the right information is shared with all the right people.
Attention: In addition to dedicated daily standup channels, you can also build a custom standup reminder using Workflow Builder.
Schedule messages to accommodate for time zones
Sending 3 a.m. Slack messages is almost sure to get you disqualified for Employee of the Month. When working with colleagues around the globe, it's important to be mindful of time zone differences and how they can affect your communication. There's good evidence to suggest that there are optimal times to send messages, so it's in your project's best interest to make sure you're catching your team members at the right ones. To schedule a message for later, click the arrow next to the green paper airplane icon and select the desired time and date. On the mobile app, hold down the green paper airplane icon and repeat the same steps.
And scheduled messages are just the beginning of Slack's automation capabilities. You can also automate other tasks, such as creating invoices or sending onboarding information to new hires.
Great Slack Apps for project management
As promised, we've assembled a collection of some of our favorite project management apps that pair quite nicely with Slack.